Published Oct. 3, 2019 | Link to original
Dear Friend and Reader:
First, please get over the notion that if you take any of this seriously, you're nothing but a partisan of evil Nancy Pelosi or Hillary Clinton. Or that if you shrug it off, you're a brave protector and defender of the United States Constitution and the honor of a duly elected executive officer.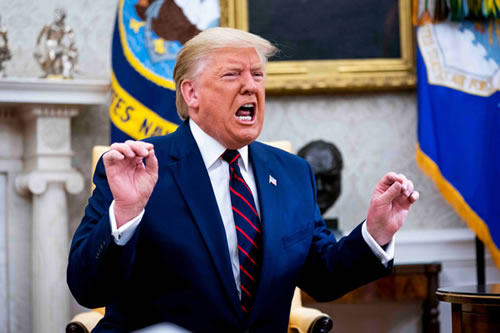 Also, for those who care, I will offer some thoughts about how not to leap across the table and pummel those who act like nothing special is happening, as they torture you with their blasé attitude. Or, for that matter, those whose acid cynicism makes you want to hate the fact that you're interested or concerned.
In this article, I'm planning to go over the basics of the impeachment and the astrology behind it, though I think it's secondary in significance to something else, something much larger and more personal. I want to speak to the figure-ground issue that will help clarify what is happening with the attempt to remove Donald Trump from office, and what the implications of that are.
This may take a few words. If I sum it up with a statement such as, "It's not about them, it's about us," all the nuance will be lost, which is part of the problem — this stark contrast view of the world that is taking over. I will do my best to be succinct without skipping over any critical details.
If you have a question, you're invited to write to me, and I may respond on Sunday's Planet Waves FM. [Here is a link to Monday's open call-in session.]